About the

Pembina Manitou Culture & Heritage Committee

The Pembina Manitou Culture and Heritage Association is a group of volunteers who are interested in the preservation and accessibility of our community's heritage. This committee works alongside the Pembina Manitou Log House Tourism Centre Committee to promote an awareness of our community's heritage. The committee works under the auspices of the Municipality of Pembina.

Although ethnocentric and racist opinions may have been expressed by writers featured in period articles on this site, the committee in no way affirms or supports such attitudes.

If you would like to contact us, please use the email address:

pembina_manitou_archive@mymts.net

or on facebook at:

https://www.facebook.com/Pembina-Manitou-Archive-299765650149530/
Mission Statements
The Pembina Manitou Culture and Heritage Association sees as its purpose to:
Provide information on the heritage and history of our community
Provide information on historical events and initiatives to the community
Host events which highlight aspects of our community's heritage
Along with the Manitou Library, to manage the growth and development of the Pembina Manitou Virtual Archive.
The Manitou Log House Tourism Centre Committee sees as its purpose to:
Preserve and continue the restoration of the Log House
Keep the Log House open during the summer through recruiting volunteers and / or partnering with groups to obtain grants
Manage the collections and the day to day upkeep of Manitou's 1884 Log House Museum
Partner with local and regional Tourism Committees to promote tourism in the region
Activities
These committees work in concert to
Undertake projects which will enhance the community's awareness of their heritage
Host fundraising events which promote the work of the committee
Manage the research and designation of Designated Heritage Sites in the district
Designate sites which need recognition and ensures the designated properties/sites are appropriately marked
Provide seed money, when possible, to groups wishing to begin a new Heritage Initiative
Manitou Log House Museum and Tourism Centre
The Manitou Log House Tourism Centre Committee manages the Log House Museum for the Town of Manitou. The Log House is a one and a half storey poplar log house built in the early 1880s to house the workers who were building the Canadian Pacific Railroad through the district. It later served to house several community families. In the 1990s, it was moved to its present location and restored as a community museum and tourism centre. It is currently furnished with period furniture and artifacts.



Pembina Manitou Archive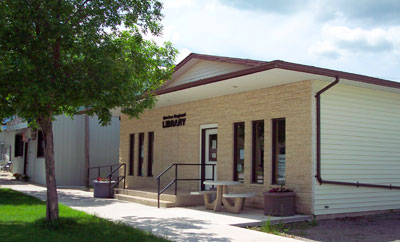 The Manitou Public Library holds documents, photographs and collections which have been donated to the Pembina Manitou Archive.
The Pembina Manitou Archive has attempted to respect copyright on all documents and photographs in its collection. If you are aware of anyone who holds copyright to materials on our site, please forward their contact information to us as soon as possible. We will ensure that copyright protocol is respected.